Welcome to Puma Fishing Lodge
PUMA FISHING LTDA. operates in Chilean Patagonia's fjord land region based in the Yelcho watershed which is considered by many anglers and fish biologists to be home to the largest resident Rainbows and Browns in all of the Patagonia. In addition, this area also has significant populations of Brook trout, Steelhead, Atlantic Salmon, Chinook (king) Salmon, and Coho (silver) Salmon. In 2017 we began fishing in the Pacific Ocean and were catching Slender Tuna and Snoek (Snake Mackerel), and submitted IGFA world records on these two species. We were one of the very first operations in this region with our floating lodge/mother-ship, PUMA, in Lago Yelcho in 1985.
WORLD RECORD WEIGHT RAINBOW OF 34lb 13 oz
-
on a dry fly!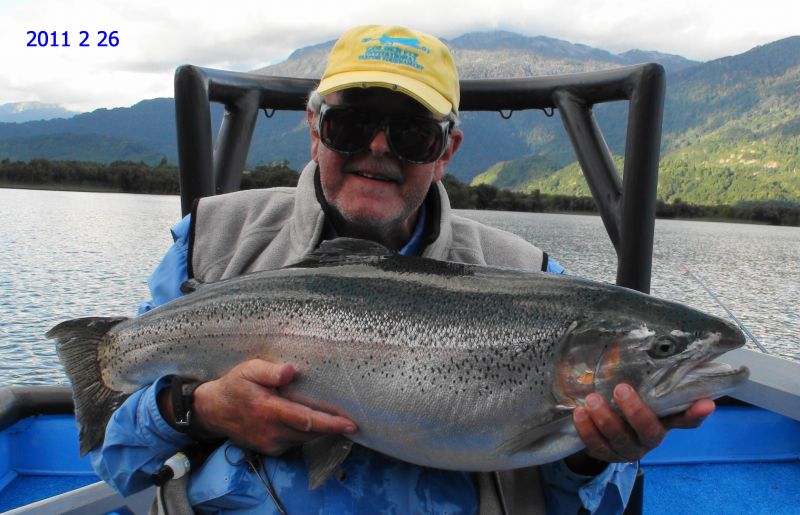 We have two bases of operation: A custom 60 ft yacht, PUMA II (christened in 2009) in Lago Yelcho which is a 28 mile long lake with 7 rivers flowing into it (including the Futaleufu) and Rio Yelcho coming out of the lake on its 50 mile journey to the Pacific Ocean near Chaiten. In 1998, we built a beautiful lodge on the Yelcho River halfway between the lake and the ocean. From these two base operations we fish various rivers, lakes and estuaries; therefore we have a wide range of options available for the time of year and weather conditions to maximize your angling experience and address your fishing preferences in a positive manner. All of this in a breathtaking setting of virgin forests, glaciers, magnificent mountains, waterfalls and volcanoes!
PUMA LODGE is adjacent to Douglas Tompkins' PUMALIN PARK, considered one of the finest eco-parks in the world. This park with its numerous trekking trails to beautiful waterfalls, lakes, glaciers and a hot springs as well as a forest of gigantic Alerce trees is available for non-fishing activities.